We hope you all have been enjoying all the giveaways we've had so far!! The Crafting Chicks team have had a blast the last week or so, and we are so thrilled with the positive response to our blog "relaunch." We appreciate our wonderful readers, both new and those who have been following us for awhile, and we can't wait to share more fun crafty ideas with you all.
So now it's my turn for a giveaway. 🙂 La la la la! Giveaway #4: Personalized 16×20 Temple Print or Handmade Crochet Headwrap, available at my brand new (still a work in progress) shop Crownberry Designs! I'll tell you a little bit about your options. 🙂
16×20 Personalized Antiqued Temple Print
I am so excited to offer these beautiful, personalized LDS temple prints. I originally photographed and created these rustic prints for family and friends as gifts, and now I want to make them available to anyone who wants unique, customized temple art for their home! They also make a great gift for Mother's Day, I'm just sayin'. 🙂 I can make your print special with your family name, marriage year, scriptures, quotes, anything you want.
Currently I have these temples available:
Salt Lake Temple
Draper Utah Temple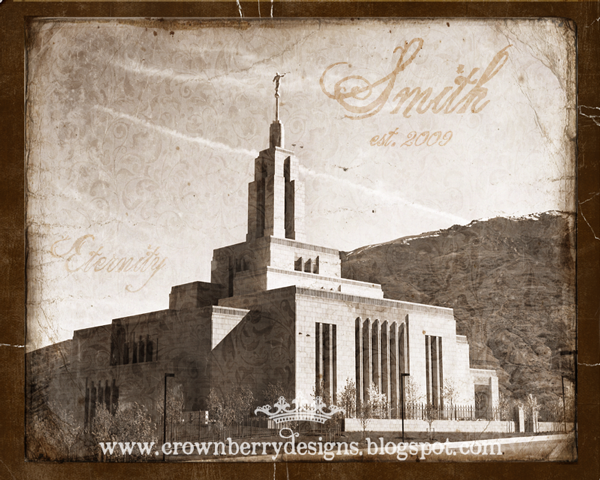 Jordan River Utah Temple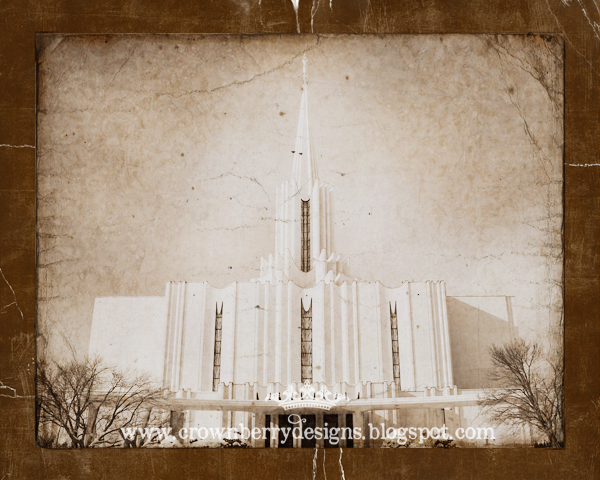 **I also am working on a Bountiful Temple print.**
This giveaway is valued at approx. $40.00.
Handmade Crochet Headwrap

Having a bad hair day? Cover it in style! 🙂 My cute grandma, mom and I have teamed up to create these fun, comfy, high quality, stylish crochet headwraps! My grandma created the design and my mom and I help out a little bit as well. 🙂 We've filled some great orders and have had a lot of fun working on these together. You can choose from a variety of FUN colors and styles at Crownberry Designs. My favorite right now are definitely the springy COTTON headwraps we have ready to go. 🙂 They are great for those morning runs to Costco, you don't even have to comb your hair.
This giveaway is valued at approx. $15.00.
I'm really excited to give one of these away to a lucky winner!
To enter this giveaway, all you have to do is leave a comment on the giveaway post, telling me which of these two prizes you would choose if you were the winner.

For EXTRA entries, feel free to do any or all of the following and leave a separate comment for each one:
*Become a follower of the Crafting Chicks blog
*Become a fan of Crafting Chicks on Facebook
*Add a button or a link on your blog (button code on right sidebar)
If you did these things already, you can do 4 separate comments on this post.
Please get your entries in by midnight MST on Friday APRIL 30, 2010 to qualify for this giveaway. The winner will be announced on Saturday May 1, 2010.