The beach is my happy place. Seriously, I cannot get enough.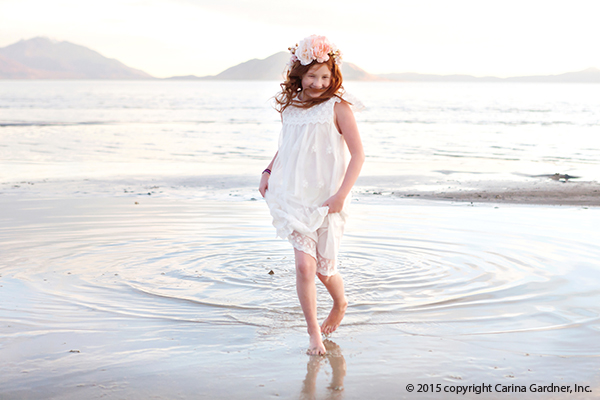 Clearly the beach makes my kids happy too (photo above is of my daughter at our family photos last year with Amy Little). And while I love going to beach, it can be a lot of work to make it happen with kids. As in, my beach day looks a little more like sand in mouths than my kids running in slow motion in white on the beach. You know what I am talking about. And then there is all the planning, getting together gear, towels, and clothing. And if it's an out of town experience (which it always is for my family), it's also managing the chaos of getting there (driving or flying?), where we are staying (hotel or friends?), and packing (we are taking THAT MANY suitcases?).
I think somehow the simple fact that we are going to the beach seems like it should be enough to create harmony on our beach vacation (Right?).
So here's some of the things I do to help make everyone happy while on the way to the beach or even AT the beach.
I'm a sucker for a great coloring book, which led me to put them into the line up at my toy company MiniLou. I especially like to take Beach themed coloring books with me on trips because it gets the kids excited about what we are about to do. I love having each kid pull out their backpack before we leave on a trip and I add snacks, toys, and games to each bag. They aren't allowed to look in the backpacks until we actually get in the car or are at the airport.
When actually going to the beach, I usually take a large bag with food, towels, and toys. I also recommend buying smaller totes for each of your kids. Make them carry their own towels and toys. I hate taking multiple trips to the car and if there is a way to distribute the load, do it!
One of the things I hate the most is the inevitable meltdown AFTER the beach. It's been a long day. Everyone has been happy, but now everyone is DONE! I love an easy dinner and movie night with the kids (anything to continue to keep everyone relaxed, right?). I also love pulling out the MiniLou paper dolls for some serious quiet time for the kids. The Little Friends Kitty set includes these awesome mermaid and scuba diving outfits to continue the "beach theme" throughout your trip.
I hope you've had time (and will have time!) to make it to the beach this summer with your kids!
Happy Relaxing (and soaking in some vitamin D)!
Carina Gardner
Carina Gardner is the owner of Carina Gardner, Inc. and MiniLou. Her husband, three kids, and two kitties reside in Salt Lake City. Carina grew up in Tennessee and spent many vacations in a stilted beach house in Outbanks, North Carolina These days she finds herself at Bear Lake, McCall, and California to get her beach time. She loves paddle boarding and digging in the sand with her children. You can find out more about her kids company MiniLou at www.mini-lou.com.