Hi. My name is Elizabeth and I blog with my sister-in-law at Simple Simon & Co. We are two girls, who married brothers and ended up with the same names. Yes, it's very confusing sometimes. But we joke about who is the "good" Liz and who is the "bad" Liz at any given family event. We both love to sew, make all things vintage modern again, and are both former school teachers. Come and see us sometime!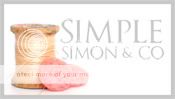 One thing you will notice about me on the blog is that I love to make skirts. They are one of the first things I learned to make as a teenager, and I love them because there are a million possiblities. And now that I have an 11 month old crawling EVERYWHERE, I love them even more because they are a one nap project. YES!
And circle skirts. Well, they are just up there on my skirt list. Probably because they are one of the first things that I started sewing when my daughter was born, after pillowcase dresses, and simple elastic waist skirts. They are fast, perfect for any age and very cute on. Another YES!
And today I am showing how to take this simple circle skirt pattern and turn it into a wrap skirt. Easy and fun….and perfect for any sewer.
Ok, first you have to make a circle skirt. If you do not know how to do that, click HERE or HERE. Just follow the tutorial for CUTTING out your skirt only. (Although I learned to do it with a tape measure and pins, more like this tutorial…so choose whichever one you like:)
Allright…let's get started. (Ok, I am switching fabric on you….this fabric below is a darling skirt….it just didn't photograph well. And I am secretly kind of glad because I then made the melon colored one that Iam in LOVE with. So summery and fun.)
There you go! Enjoy your wrap skirts! (And now I am off to make a few for myself….)