Hi everyone, it's Kimberly with Get Away Today. It's no question that summer vacation is the highlight of summer, and Disneyland is the quintessential summer vacation destination. But how do you keep your kids excited about your destination before you go, and keep the Disneyland vacation magic alive when you return? Easy, turn your backyard into Disneyland! We put together six easy ways to re-create some of your favorite Disney attractions in your own backyard with a little imagination of course.
Radiator Springs Racers: On your mark get set go, go, go! Kids can race on their feet, bikes, skates, or even scooters. The key is to have a track.
I love the addition of car cones, which make you feel like you're in Cars Land. But really, sidewalk chalk will work for a track too.
Toy Story Midway Mania: This is by far one of my favorite rides at Disney California Adventure Park. Maybe it's my competitive side coming out, but I want to ride again and again to beat my score. You can re-create any of the carnival type games in your backyard. Use water guns to knock over bath toys set up on a play table. Just be warned, it may or may not turn into a water fight.
Mad Tea Party: If spinning around in a teacup again and again makes you dizzy, try our version at home. All you have to do is grab some hula hoops and music. Keep hula hooping as the music goes and stop when the music stops; just like the Teacups at Disneyland.
Splash Mountain: This is another one of my favorite attractions, and is perfect for summertime! You can re-create the drop at the end by putting a kiddie pool at the bottom of your slide. If you don't have a slide in your backyard, you could do this one at the park. Or, use your imagination and play Splash Mountain with a slip and slide. Either way, your kids are sure to find their "laughing place."
Soarin' Over California: This is another one of my favorite rides (yes, I have a lot of favorites), and all you need to make this one work is a swing set. Once again, if you don't have swings in your backyard, you can head to a nearby park. This ride currently takes you over the diverse areas of California including the desert, ocean, mountains, orange groves, L.A. traffic, and of course, Disneyland. A new version of Soarin' Around the World is expected to come to Disney California Adventure this summer. We're sure it will have amazing views as well. Just like the real ride, you can make your version interactive by spraying your kids with sprinklers as they soar over the ocean, and play music from the soundtrack.
Big Thunder Mountain Railroad: Make your own unique version of Big Thunder Mountain Railroad and make a splash in your backyard. All you need for this are pool noodles and a sprinkler track. You can learn how to make a train track that shoots out water on Play Trains, and your kids can be the runaway trains running over the tracks. It will keep your kids cool and happy for hours.
The key to making Disneyland come alive in your backyard, is first and foremost imagination, and then second music. I highly recommend getting a soundtrack of the Disney ride music. You'll be amazed at the feelings it invokes. Add to the summer fun with cool Mickey treats. I recommend these easy to make Mickey ice cream bars or Lime Mickeys. You can get the recipes and step-by-step instructions over on Packed with Fun. They are sure to keep your kids refresh during your Disney day in your own backyard.
If you'd like to book your vacation to Disneyland, our agents at Get Away Today would love to help. Give them a call at 855-GET-AWAY  or check out our Disneyland packages at getawaytoday.com. Use promo code: CraftingChicks to save an extra $10 off any 2-night or longer Disneyland package.
Want more!? You can find the rest of our Week of In the Backyard Activities here.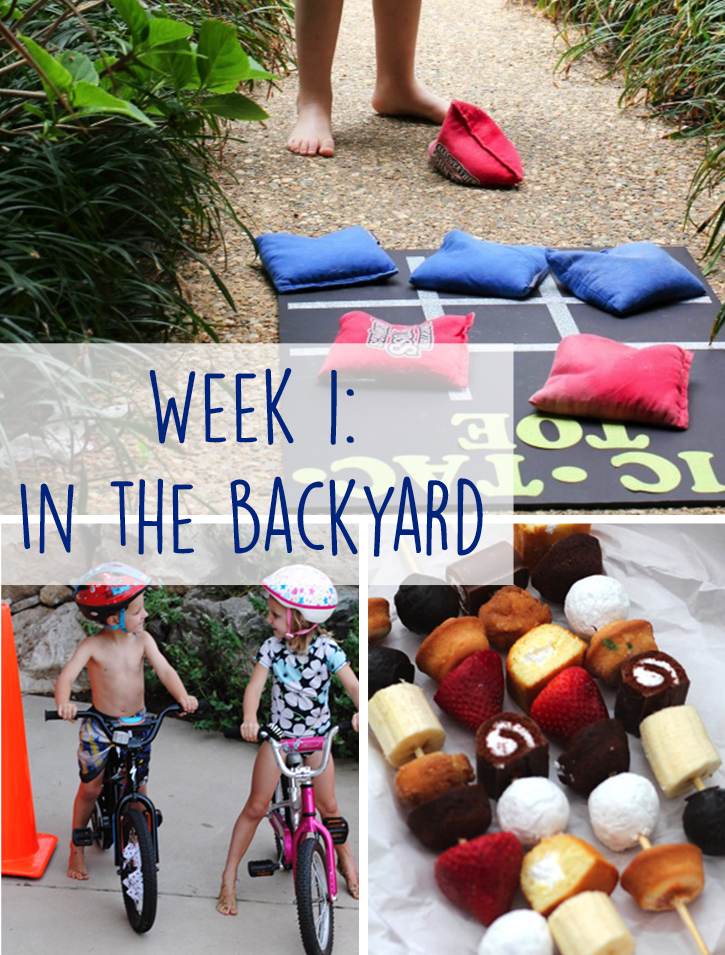 Still want more, you won't want to miss our past Summer Survival Series.