Here is our Gift Guide for Girls Age 7-12. I think girls are so fun to buy for. This list has ideas for all types of girls.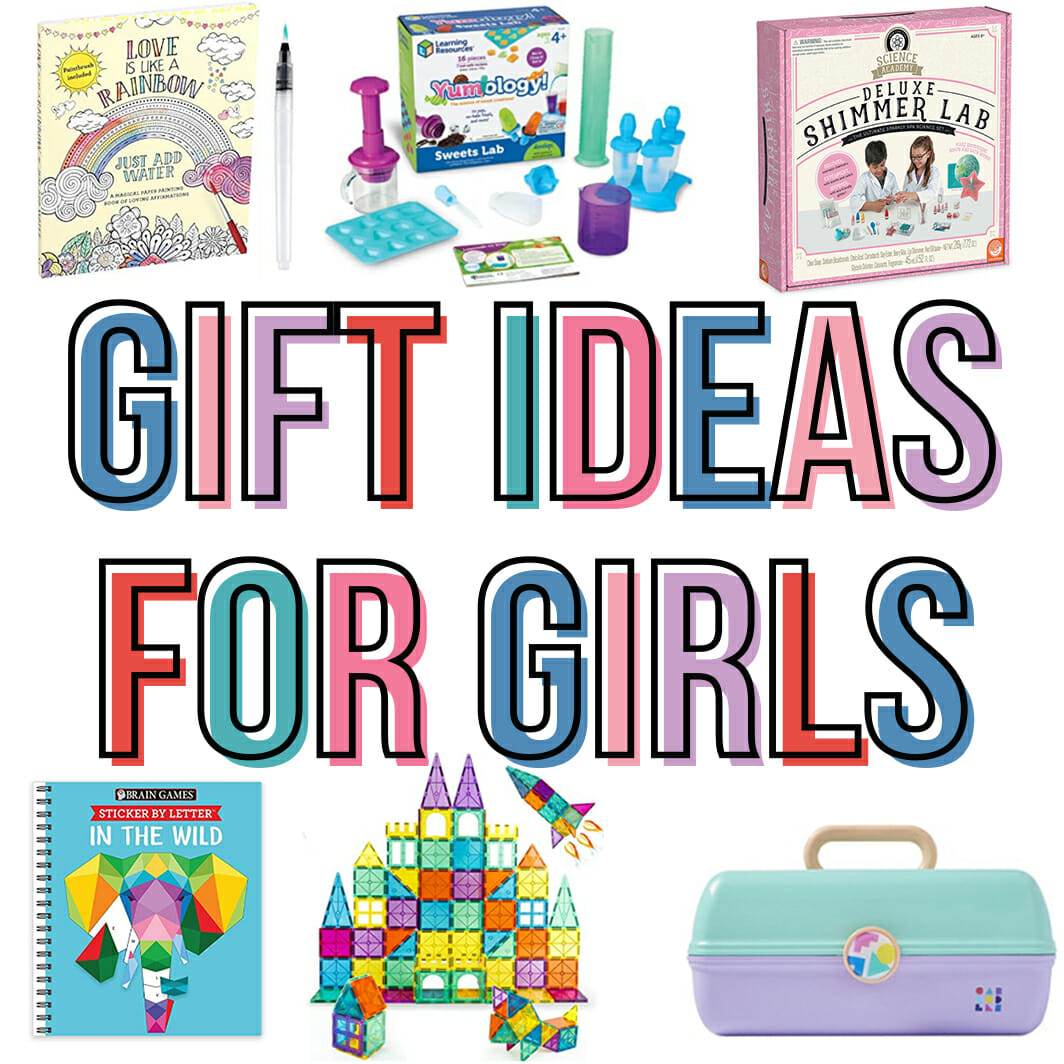 We've rounded up the BEST gift ideas for girls ages 7-12! With 6 girls between the 3 of us, we have the girl gifts down to a science.
Check out our Gift Guide for Girls Age 7-12
This post contains affiliate links.
Little Scientist Gift Ideas for Girls
This sparkle Science Academy Shimmer Lab is so fun for your little Science Lover!
Grow and Enchanted Fairy Garden and learn about plants with this Creativity for Kids Enchanted Fairy Garden.
Experiment with Candy Making with this Learning Resource Science Sweet Lab! Your lovely little scientist will love making sweet creations!
How fun is this Soap & Bath Bomb Science Lab Kit?! Fun to create bath bombs to share with friends and family!
Magnetic Tiles are an awesome STEM toy that will let them quickly build whatever they can imagine.
Of course we have to add in a slime kit. This Ice Cream themed fluffy slime kit is the one my daughter has asked for.
Crafty Gift Ideas for Girls
My daughter loves Paint By Sticker books. They are a no mess activity that keeps her entertained at home or in the car.
I picked up a Just Add Water book for my daughter on a whim. It's like a more grown up paint with water book. Pair it with a Water Brush Pen for painting on the go.
Give us all the beads! My daughter and her friends love to make bracelets and necklaces from beads. There are so many cool options like Glass Seed Beads are a classic. Flat Beads are really fun and we like to add these fun fruit spacer beads inbetween the flat beads.
If you do have a bracelet obsessed child, you'll want to snag them one of these bead boards. It makes beading so much easier. Plus is saves you on clean up. We also think this transparent cement is necessary. It helps keep the bracelet intact.
We found out about Kids Crafts and could not be more impressed! This is something that my girls are going to love! Craft kits and books ready to inspire young girls to craft, create, and start their own businesses. We want to try out this Paper Clip Kit first!
Sporty Girl Gift Ideas
Grab this 4 Square Ball and some Outdoor Washable Sidewalk Chalk for a fun game of 4 Square in the driveway!
How fun is this sporty soccer girl gift…a pink Soccer Goal and Ball. Fun for outdoor soccer fun!
Fun Game Gift Ideas for Girls
We love a good game of Guess Who? at our house. There are so many fun ways to play this game. We love it.
Introduce them to strategy games early with Catan Junior.
Gamewright is one of my favorite game creation companies. And the game,Outfoxed!, is a fun cooperative whodunit board game that everyone will have fun with.
Beauty Gift Ideas for Girls
Caboodles are back and better than ever! Snag this cute colorful one at Ulta!
Spa gift sets are so cute! Especially this More than Magic Unicorn pamper set.
This Nail Salon Set for girls is a bunch of fun! Little ladies will love giving manicures and getting them too!
Play dress up with this fun Non-toxic and washable Kid's Makeup Kit! So much fancy fun!
What they All Want!
These are some gifts that you almost can't go wrong with. You'll understand when you see the list.
A bluetooth wireless Karaoke Microphone is fun for everone. Well, the parents might get sick of it after a while. But what kid doesn't want to talk into a microphone?
Crayola Light Up Tracing Pad is something that I would have loved to have as a kid. Now I watch my younger girls hang paper up on a window to trace it. I think they would use this over and over again.
My kids have always been facinated with taking pictures with a camera. The bonus for this camera, it's waterproof. They will love it.
Everyone at our house is obsessed with our Buddha Board. It is so much fun and no mess at all.
Most everyone kid loves a night light, and who wouldn't want this Star Projector Night Light?
And with Popits being all the rage, you can't go wrong getting them a pack of those.
Check out these post for more fun gift ideas.