**This is a treat I posted on Eighteen25 as part of their always amazing Spooktacular September! 🙂**
Today I'm going to share a quick and easy treat that is perfect for this time of year, using only a few ingredients!
I like making "homemade oreos." You know, the kind where you use a box of cake mix and some frosting and BOOM you have a delicious "homemade" cookie that's even better than a real Oreo (in my humble opinion)! They're not made from scratch but I did make them at my home. 🙂
But as a little Fall or Halloween-ish twist I decided to make my cake mix oreo cookies in the famous candy corn colors to sort of mimic those famous little candies: yellow, orange and white! Hence the name "Candy Corn" Cookies! (No actual candy corns were harmed in the making of this recipe.) It's a really simple recipe that makes a fun impact. These would be great as treats for your family and friends and any fun event you have coming up over the next few months. Here we go!
5 General Ingredients for "Candy Corn" oreo Cookies:
**2 boxes cake mix (1 yellow and 1 white), oil, eggs, frosting (homemade or store-bought) and food coloring**
Yellow Cookies:
1 box yellow cake mix (any brand)
1/3 cup oil
2 eggs
**optional: add a few drops yellow food coloring to the dough (to make yellow color brighter)
White Cookies:
1 box white cake mix (any brand)
1/3 cup oil
2 egg whites (this helps to keep the white color)
Directions:
Mix the ingredients for your yellow cookies (cake mix, oil, eggs) in a bowl until it's all mixed together well. I added a few drops of yellow food coloring to intensify the yellow color of the dough. Repeat for your white cookies in a separate bowl, except I'd recommend using egg whites because that helps to maintain the white color of the dough.
Roll dough into small balls and place on greased cookie sheets. I made them fairly small (like, less than an inch) but you could make them as big (or small) as you want. I fit 20 cookies on each cookie sheet. Bake at 350 degrees for 7-9 minutes, but watch them carefully because you don't want them to get brown on the tops. (The finished cookies were less than 2 inches in diameter, just FYI. I bet you could get about 3 1/2 dozen total doing them the same size I did.) Let the cookies cool on a rack.
For the frosting, I went the really easy route and just tinted some vanilla frosting from the store ORANGE with food coloring. Or you could use your favorite frosting recipe.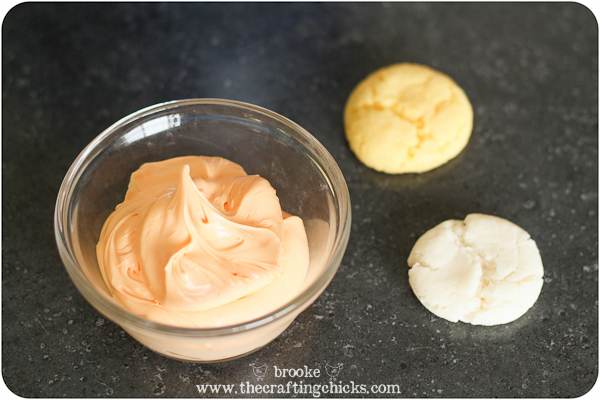 Putting them together is a cinch. You'll want to frost the flat part (bottom) of the cookie with a blob of frosting, then stack the other cookie on top—matching them up in the order YELLOW COOKIE, orange frosting, WHITE COOKIE. Remember, the flat parts of the cookies (the bottoms) are touching the frosting.
That's it! Then you can have lots of fun packaging the cookies in different ways. 🙂
I adore jars! Stack 'em up inside a small jar topped off with some coordinating baker's twine and you've got a darling gift!
What about sticking two cookies in a cute cupcake wrapper for dessert at a party?
Or there's always the darling little patterned goodie bags–I'm still loving stripes and chevron–that really makes them perfect for Halloween fun. (I bought these small bags at Orson Gygi in SLC, UT)
Display them on a cake stand and I assure you they'll be gone in a flash! My kids went crazy over these! 🙂
These "Candy Corn" Oreo Cookies come together quickly and easily and would be perfect for your Fall or Halloween!