Leigh Anne is the sweetest and we're thrilled to have her sharing this sweet tradition.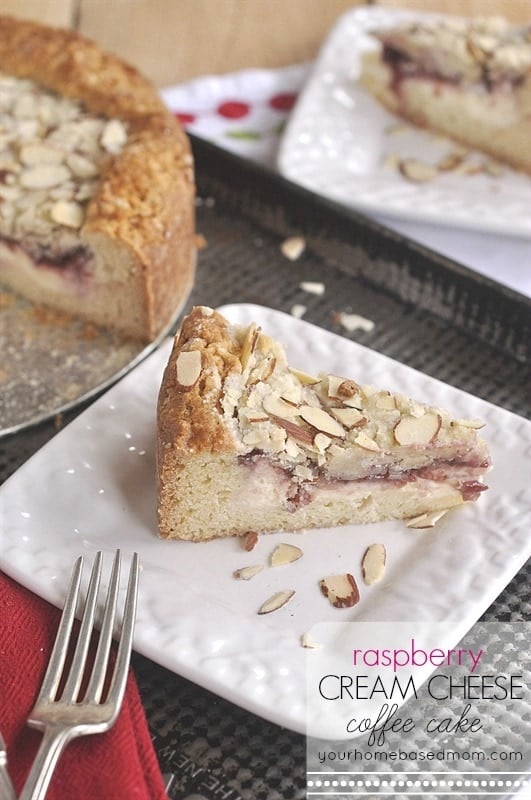 Hi! I am Leigh Anne visiting from Your Homebased Mom. I am so excited to be here at The Crafting Chicks. I had the opportunity to meet Brooke in person earlier this year when we both were on KSL Studio Five the same day! She is such a cutie!
We have lots of holiday traditions at our house. Tradition runs deep at the Wilkes household and I have learned that even though my children are now young adults I can't ignore those long standing childhood traditions. Some of our favorites include our Breakfast with Santa, Christmas Eve fondue dinner, Christmas Day traditions and others that are on my blog and I hope you will visit. Our family even made the newspaper and the nightly news when someone tried to mess with one of our family traditions a few years ago!
Today though I want to share a non-family tradition. This holiday tradition involves my friends. One of my favorite holiday traditions has always been a holiday brunch I host the first Saturday of December. For twenty years I was involved in a direct sales business and during that time I would invite the women on my team to my holiday brunch each year. It was a favorite event and one they looked forward to all year. Not only was it a chance for me to spoil them during this crazy, busy time of year but it was an opportunity to slow down just a bit, for just a few hours on a Saturday morning and enjoy each others company and some good food.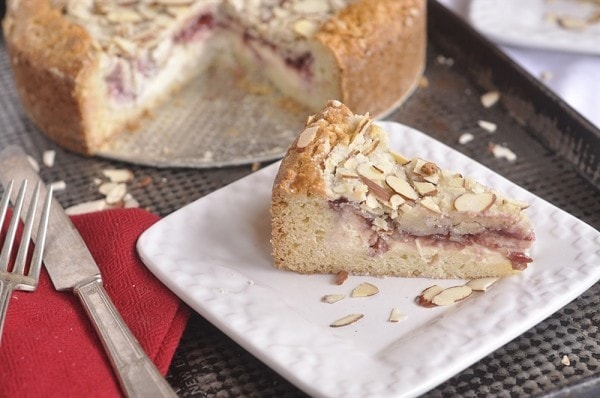 When I resigned from the company just over a year ago I decided I needed to continue the tradition of the brunch. So last year I invited a group of my friends from church. These particular ladies were not in the same congregation as I was so I didn't see them on a regular basis. It was a wonderful morning, enjoying friends, good food and good conversation. A chance to slow down for a few hours. The tradition continued. You can see details from last year's Breakfast with Friends here.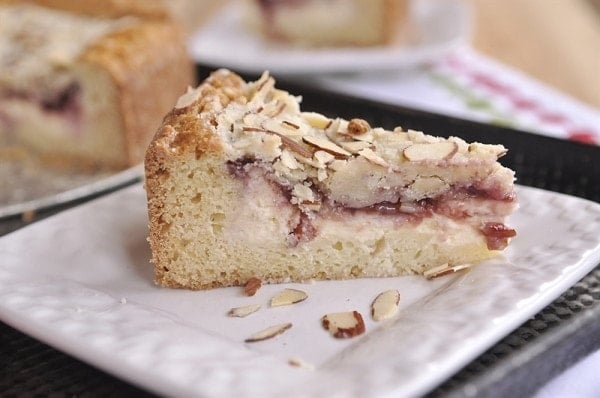 One menu item that is a must have for my holiday brunch is Raspberry Cream Cheese Coffee Cake. It has been a family and friend favorite for over 20 years. It can easily be made the night before your event and kept in the refrigerator. This coffee cake is always the favorite holiday brunch leftover with my family! (If there is any leftover)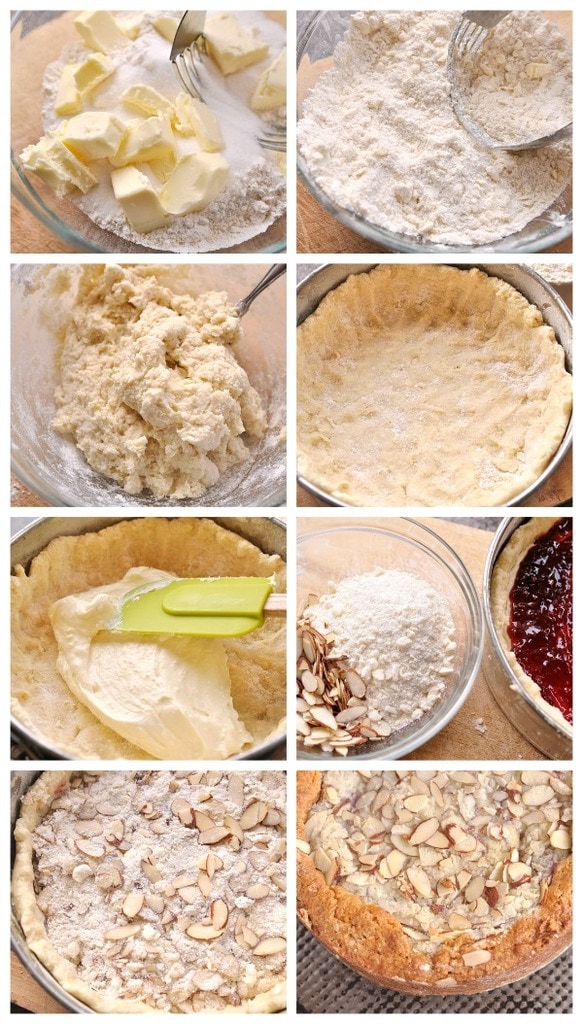 One thing I particularly love about this coffee cake is the almond flavor in the cake part – so yummy! The middle of the coffee cake is filled with a cream cheese mixture and then topped with raspberry jam and almonds.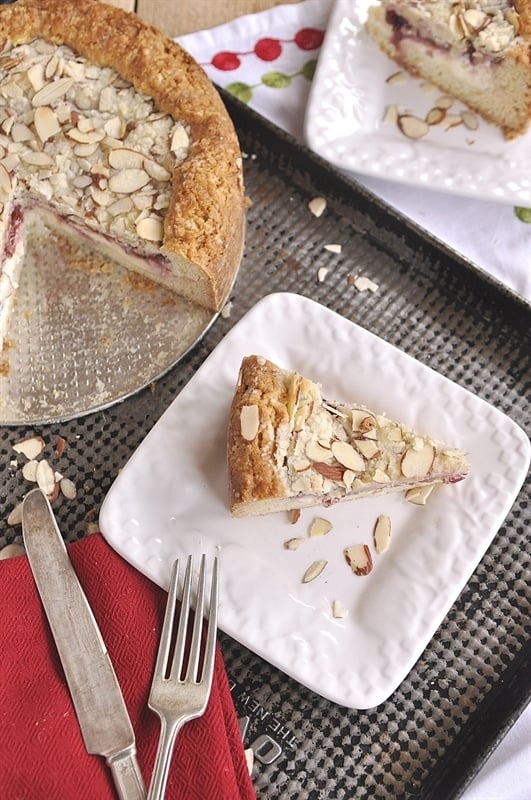 You'll be hoping for leftovers when you serve this! Just keep them stored in the refrigerator.
Do you have any holiday traditions with friends?
Raspberry Cream Cheese Coffee Cake
2 1/4 cups flour
1 cup sugar, divided
3/4 cup butter, chilled
1/2 tsp. baking powder
1/2 tsp. baking soda
pinch of salt
3/4 cup sour cream
2 eggs, divided
1 tsp. almond extract
Filling:
1 -8 oz. cream cheese, room temperature
3/4 cup raspberry jam
1/2 cup sliced almonds
Directions:
Grease and flour bottom and sides of a 9 inch springform pan.
In a large bowl, combine flour and 3/4 cup sugar
Cut in butter using a pastry blender or fork and work into coarse crumbs
Set aside 1 cup of crumb mixture
Into remaining crumb mixture, add baking powder, soda, salt, sour cream, 1 egg and almond extract
Blend well
Spread batter over bottom and 2 inches up sides of pan
Batter should be about 1/4 inch thick on sides
In a small bowl, combine cream cheese, remaining sugar and 1 egg and blend well
Pour over batter in pan
Carefully spoon preserves evenly over cheese filling
In a small bowl, combine the 1 cup reserved crumb mixture and sliced almonds
Sprinkle over the top
Bake in a 350 degree oven for 45-55 minutes or until cream cheese filling is set and crust is golden brown
Cool for 15 minutes
Remove sides of pan
Serve warm or cool, cut into wedges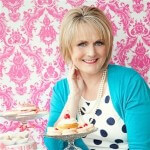 I'm Leigh Anne and food, family and friends are three of my favorite things. I am the mother of four young adults, a new mother in law and am still trying to adjust to life as an empty nester along with my husband of over 30 years. I love throwing parties, burying my head in a book and digging in the dirt in my garden. My husband would tell you I love making messes in the kitchen and craft room and finding junk (treasures) at Goodwill. I believe that life is beautiful and it is up to us to find and create that beauty. I love sharing my journey to finding the pretty and delicious in life over at Your Homebased Mom. You can also visit me on Facebook, Pinterest, Twitter or Instagram.