Welcome Melissa from Polka Dot Chair Blog!  She talks about being busy and last-minute around the holidays…girl you are in good company.  I love your new tradition!  Welcome Melissa!
Hello there! My name is Melissa and I'm the girl behind the Polka Dot Chair Blog. My goal at the Polka Dot Chair is to inspire you to want to make something! Whether it's a sewing project, a craft or a yummy recipe I want you to leave feeling inspired to create!
Today I'm excited to be here sharing one of my favorite family Christmas traditions with you. It actually is a funny story, it started out first as an accident, then moved onto poor planning on my part. After that it became and annual event, so now we call it a tradition *wink*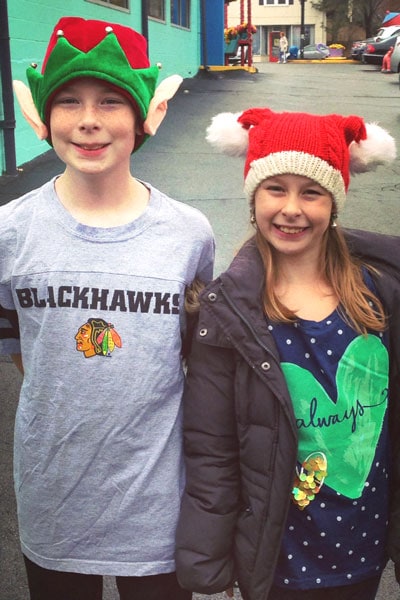 In my family we love to deliver treats to our friends and neighbors at Christmas-time. It's not always something home baked or handmade but it always has a personal touch to it.
Before we go further, you should know two things about me— 1- I'm not always a good manager of time and 2- I am for sure not a good manager of stress at the Holidays. I always seems to make bigger plans than I have energy or time to complete.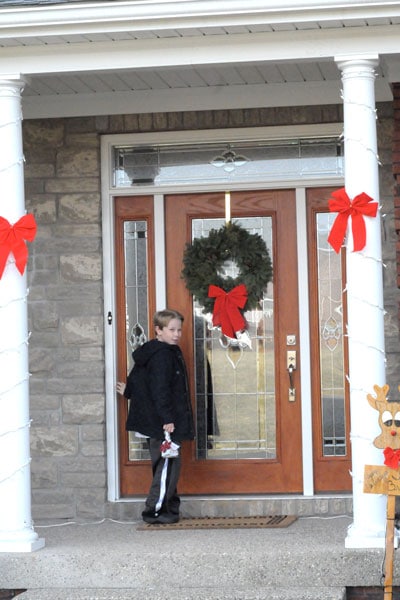 Every year I'd try to get treats out to our neighbors early in the month to avoid the last minute Holiday craziness. Then every year without fail, we'd be out in the car delivering gifts on Christmas Eve. It started to stress me out and make me feel like I "failed" Christmas.
Finally, after a few years of this we decided to just PLAN to deliver treats on Christmas Eve and a new tradition was born. Now my kids look forward every year to our treat delivery and even get dressed up for the occasion.
Now instead of looking at our last minute deliveries as a bad thing, we've tried to make it a positive and look forward to it every year. We usually go out to breakfast and play Christmas music in the car while we drive around and drop off yummy treats to our friends and neighbors.
**hint hint: it's also a VERY good way to get kids out of the house on Christmas Eve day if they are driving you crazy with anticipation **
Here are a few of the gifts that we've delivered in the past if you're looking for ideas! None of them are very time or labor intensive (as obviously I have time to complete them at the LAST MINUTE)
(from top left) Graham Cracker Bites (this one has a free printable) Peppermint Bark, Packaging Idea, Tags for the Neighbor Treats, FREE Believe Tag Printable, Cookies in a Jar neighbor gift.
You can also hop on over to my blog, and click on the "My Tutorials" link at the top for many more craft, gift and Holiday ideas.
I'd love to connect with you:
Find me on: