Today we are sharing some of our very favorite Patriotic traditions with our families! We love to hear other families' traditions. Especially for these fun Patriotic Holidays….Memorial Day, 4th of July and Veteran's Day and Labor day! Break out that Red, White and Blue all year long!
1. Patriotic Photos:  We are suckers for patriotic outfits for our kids. So fun to dress up in red, white and blue. We love the look this year from Gymboree. Cutest red, white and blue outfits for boys and girls. After choosing these patriotic outfits, we take photos of our kids…and sometimes as a family. The trick is to take the photos before the holiday! This way, you can enjoy the holiday and just capture the candid moments of the Holiday. We treasure these photos each year and it's so fun to look back at years passed. They grow so fast and I love having these pictures of my kids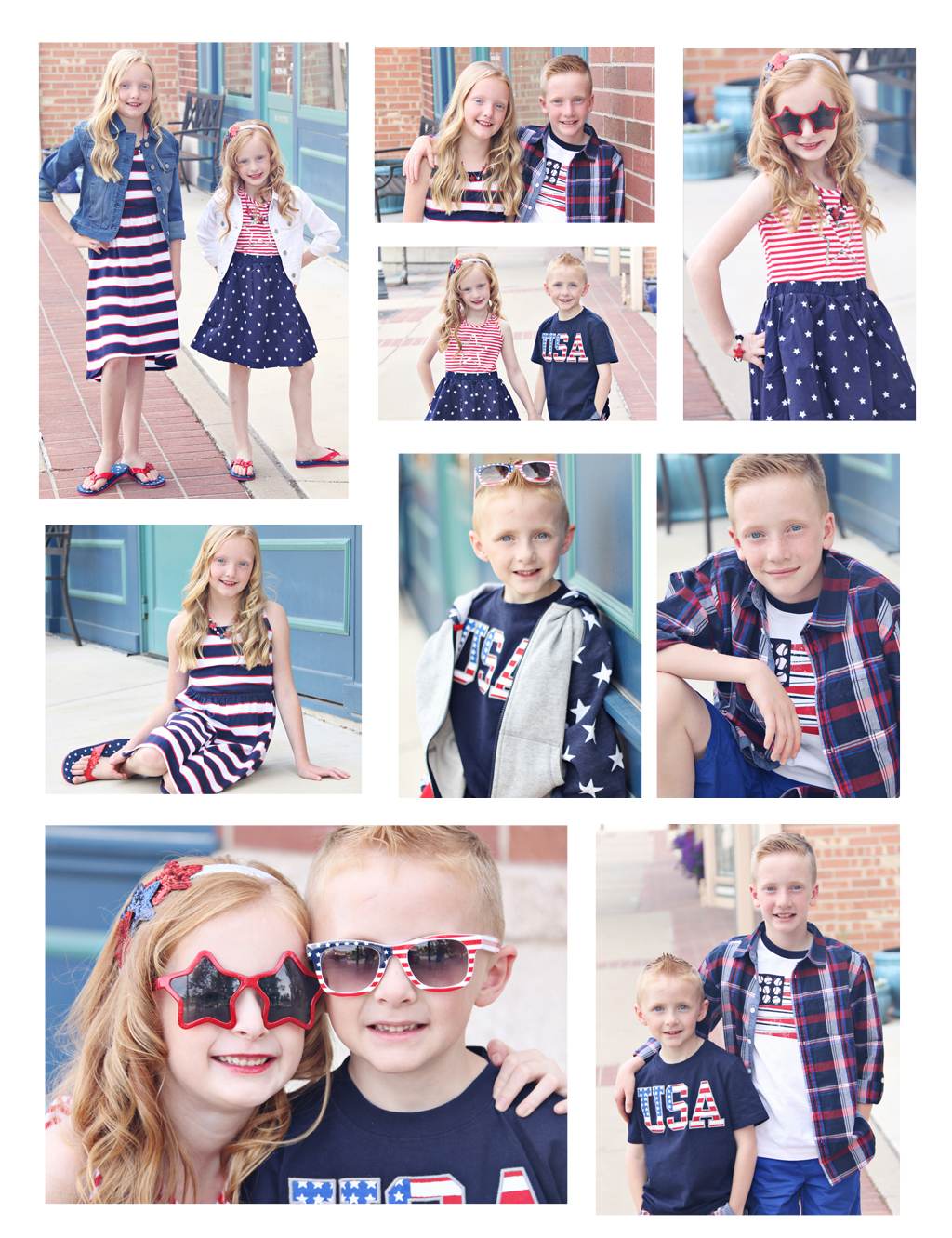 2. Kids' Crafts:  We love to add fun kid crafts to our holiday activities. Often we gather with cousins and it's great to have a fun activity for the kids. The kids love helping decorate for the holidays too! Like making these adorable 4th of July paper lanterns!
3. FOOD:  What's a party without food? Every holiday and family gathering is so much better with fun recipes, and a yummy menu plan for that day! We love creating recipes and making desserts that incorporate patriotic colors…red, white and blue!
Some of our favorite desserts are red, white and blue jello parfaits
and this Patriotic Flag cake.
My kids love to help me make the desserts the night before. That is one of their favorite traditions. We also love  having little treat favors ready for our family and cousins. Little treat tags and candy ideas to share at a parade or firework show.
4. CAMPING: Spending time exploring the great outdoors is a family favorite. Whether we are visiting a national park or setting up a tent in the backyard, long weekends are a great time to make new memories. Being unplugged and in tune with nature is a great way to appreciate the freedoms of this great country!
5. MUSIC: With only a few days out of the year to listen to patriotic music take full advantage of singing along with your kids to America the Beautiful, This Land is Your Land, The Star Spangled Banner, God Bless America, My Country Tis of Thee, and Lee Greenwood's I'm Proud to Be an American of course.
6. PARADE: We love to catch a good old fashion small town parade. It's great to pack up some bags to tote actives to do until the parade starts. Beach balls, frisbees and water bottles are all fun options for us.
Parades are also a great way to honor those who have served our country. It's amazing how reverent everything can get when the flag comes out to start a parade.
7. Visiting Graves: As a family we usually will head to gravesides of family members and leave flowers. It's a great way to teach my children where they came from. Especially if you have any family members who have served in the armed forces. Telling you children about the service for our country is a great way to celebrate.
8. Fly an American Flag: Show your true colors not just by wearing red, white and blue, but by flying our flag. In our neighborhood we donate to our local Boy Scout troop and each holiday they bring around flags for us to display. This is a great way to show our support.
*This post may contain affiliate links. Please see our disclosure page for more information.