Not only is Toni from Design Dazzle sharing one of my favorite holiday treats, but her site is chuck full of fun ideas. Like this "Milkaholic" baby shower. She is awesome and we're happy she's sharing with us today!
*******************************************************************************
Hello! My name is Toni and I blog at Design Dazzle which all about celebrating childhood (come visit us). A big thank you to The Crafting Chicks (love all their ideas) for inviting me to be a part of their Christmas Tradition series. I have so many Christmas traditions it is hard to choose which one to share. So, come on over to see more traditions, crafts, and decor in our Christmas Wonderful series which features ideas and traditions to make YOUR Christmas wonderful!
One of our Christmas traditions is to make gifts for our family, neighbors, church leaders, teachers etc. ALL of our family gets involved in this. Everyone helps to make, create, cut ribbon, cut paper, apply embellishments, and "fluff" to make each gift great! One year we gave out about 70 handmade gifts so we don't do anything to time-consuming. We usually give food gifts and have given out frozen cookie dough, spiced cider, etc. We try to be a little different with what we give.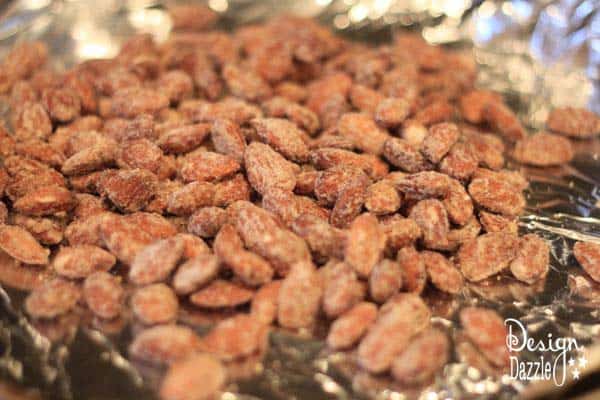 So today I'm sharing how to make sugared nuts! These are pretty simple to make and would make a great food gift to give. See recipe and link to printable below.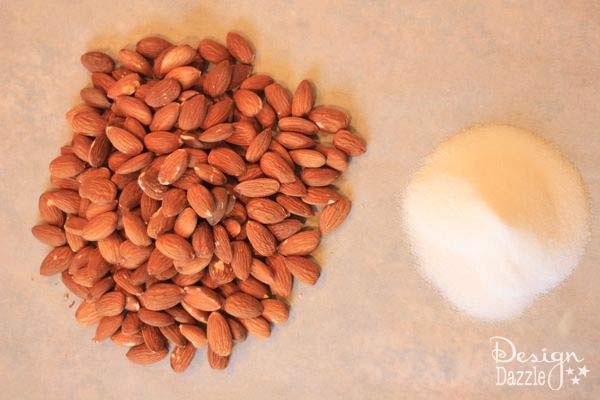 Ingredients:
1 1/2 cup raw almonds
1/2 cup sugar
2 tablespoons water
Instructions:
Add the water and sugar to a large pot. Bring to a boil over medium heat.
Once the sugar dissolves, add the nuts. Stir to coat the nuts. At about the 2 minute mark stir quickly. The water will begin to evaporate and the sugar will start to crystallize. Turn off the heat IMMEDIATELY (keep stirring) and remove the pan from the heat source. Do NOT overcook the nuts. Pour the nuts onto parchment paper or a plate to cool. They are ready to eat when they have cooled down enough to munch on! You might like eating them warm or cool.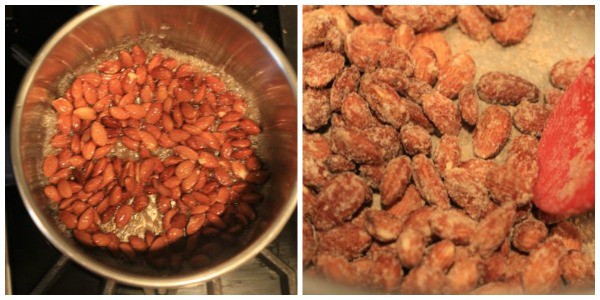 Package the nuts into cello bags. Add ribbon and our cute printable to make a easy and everyone-loves-gift!
Tips for success…
Purchase nuts in bulk (Costco is a great place for almonds) for gift giving.
Use a non-stick pot.
Try adding different flavors: cinnamon or hot spicy or ?
Do not overcook on the stovetop.
If the nuts taste somewhat raw after making them, next time try baking the raw nuts for 3-4 minutes in a 350 degree oven before cooking on the stove.
Here is another one of my FAVORITE Christmas traditions…
One of our Christmas traditions has been in our family for at least 3 generations (it saves times, money and EVERYONE loves it). Kids leave these empty sacks on Christmas Eve and wake up to find Santa has filled the sacks with toys! Start a new family tradition with Santa Sacks! Use our printable to iron on a pillowcase. More info at Design Dazzle.