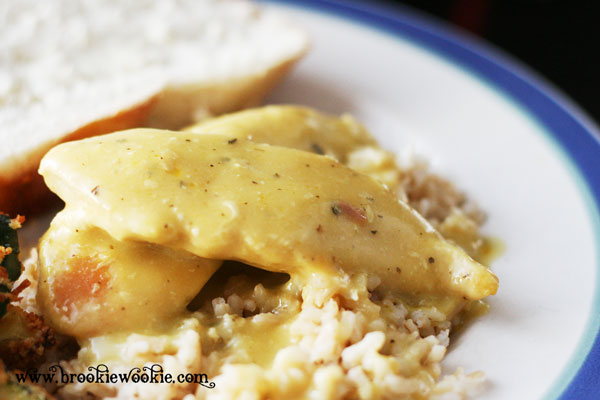 This Crockpot Lemon Herb Chicken recipe is a meal my mom always made and we loved it growing up. And now I make it for my family often; it's definitely one of those go-to recipes that I always have the ingredients for. Plus, it's so easy to throw together and leave it to make my house smell divine–it's almost embarrassing to write a whole post about it. 🙂 I must say, I LOVE MY CROCKPOT (it's awesome and red). Let's get on with the recipe, shall we?
Recipe for Crockpot Lemon Herb Chicken
Boneless, skinless chicken breasts or chicken tenders
2 cans cream of chicken soup
1/2 soup can of water
1 heaping Tbsp. Lemon & Herb seasoning (I use McCormick)
(optional, see below) 1 cup flour
(optional) 2 Tbsp. olive oil
Directions:
Heat oil in skillet. Coat chicken evenly with flour and brown on both sides in hot oil. Season with salt and pepper.
**This part is optional. I don't always brown the chicken before I put it in the crock-pot. In fact, I usually just throw in frozen chicken breasts that I've cut in half because it takes very little time. I am lazy!**
Spray crockpot with Pam and place the chicken inside. Meanwhile, combine the cream of chicken soup, water, and lemon herb seasoning in a bowl and mix it all up together. Then pour it over the chicken in the crock-pot. Cook on low for about 6 hours.
If I'm in a bit of a hurry and don't start this early enough in the day, all is not lost! 🙂 If this is the case then I use frozen chicken tenders because they are smaller and cook faster. I put my crock-pot on high for about 3 hours and it still turns out just delish. YUM!
It's great served with brown rice–place the lemon herb chicken on top of the bed of rice and drizzle with the extra lemony gravy from the crockpot. It is also yummy over mashed potatoes. Plate it up with your favorite veggies and some fresh french bread and you've got a meal!
Bytheway, for this particular dinner and photo I made delicious baked zucchini fries with panko crumbs from Our Best Bites as the side dish and they were a hit! Yummy and healthy.
I made a cute 4×6 recipe card! You can click on it, download it to your computer and print it for your recipe files if you'd like.